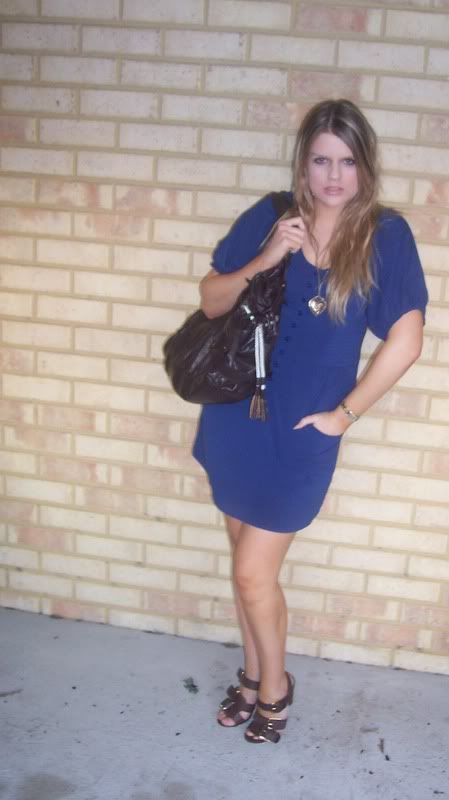 This dress has a hilarious anecdote to go with it. I went to this surf shop and I found it, and I thought it was cute and a fun colour. So naturally I went to try it on. I went into the change room, tried it on and was really happy with it, it was only $80 as well. So I get changed into my clothes again. Go to open the door.....and it won't open.
So I am thinking, well this is embarrassing, I can't even open a door (I am really not good at basic things). So I was really embarrassed, so I was trying to be as quiet as possible rattling at the door trying to get it open. Anyways, I was in there for a while, so the sales assistant must have got worried. She knocked on the door and asked me if I was okay...and could I even get out? I said.. no..I can't get out, I'm stuck. She starts laughing hysterically at me, and goes okay I will go get the key don't worry.
She comes back with the key, and starts rattling at the door for awhile, and then goes all quiet, and then says.. umm... I think the lock is broken. I was like... well... I kind of need to get out of here eventually. So she calls another girl from the downstairs part of the shop and she comes up and tries it, and they are both just laughing, and they even tried kicking down the door. While I was contemplating my new house the change room.
Then one of the girls crawls under this really small gap underneath and just pops up next to me and just says Hi! I said Hi! So she tried from my end, and then I was like, wait a second, can't I just climb under too then? They were like no no we will get you out we don't want you climbing on the dirty floor. I did have a little dress on. But in the end they couldn't get me out, so they made sure no one was looking and I really ungracefully crawled out and they dusted me off. I bought my dress, and they gave me ten dollars off. So the moral of the story is, get stuck in change rooms if you want discounts.
The end
dress Mink Pink, shoes Sportsgirl, bag Live