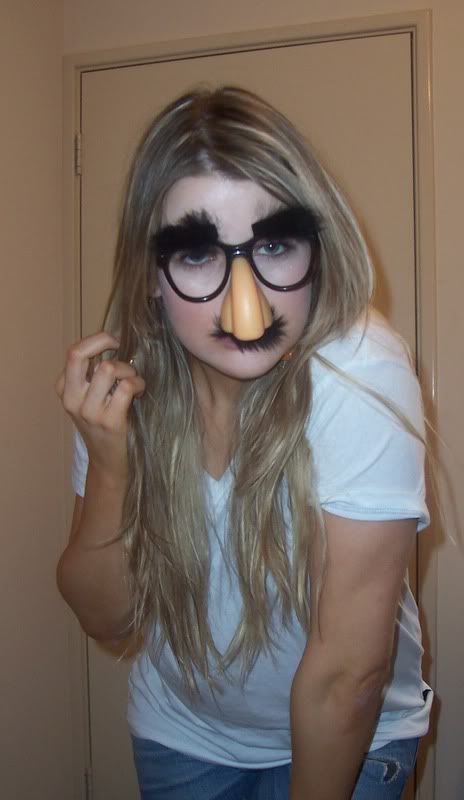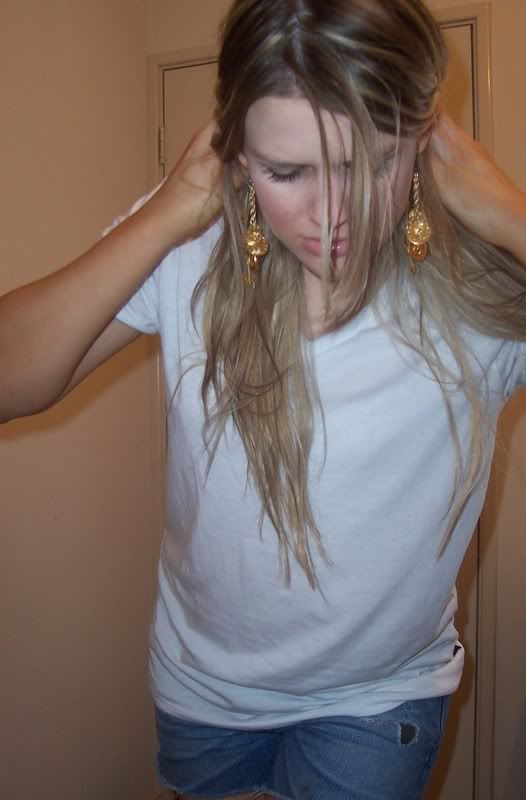 Yes, all admire my very very cunning disguise. I have been looking for a pair of these glasses for a really long time now. I literally jumped for joy when I found some at a balloon shop yesterday. Yes a balloon shop. Yes glasses. No, I don't know why they were there. I have a feeling these are going to come in very handy. VERY HANDY INDEED!!
I also found these great gold coin earrings at the bottom of my jewellry box, I had totally forgotton about them. So seeing as they go in your ears, I promptly put them where they belonged. It was quite enjoyable.
You know what isn't enjoyable? Trying to cram 60 balloons into two cars in extreme wind. Why is the weather so windy and cold and rainy???
Anyways, the balloons kept popping like crazy, so I think we only have around 30 left. Then we finally got them inside and all fine, and they were popping on their own! The stupid balloon shop people had overfilled them. So they just keep popping!
Stupid balloon shop people, your only job is to fill balloons. Yet you couldn't even manage that? Oh yes I have a feeling your business is going to do very well, except not at all. I also thought it was a nice touch when you laughed at us and said there was no way we would get the balloons in the car without purchasing special balloon bags, which yes we would have to pay a dollar each.
Don't you think that should be included in the price if it is the only way to get them in cars? Don't you think that it might upset customers by pointing and laughing at them? So what a sad day, I was so happy for about 5 seconds when I was surrounded in lovely balloons.
Well they can expect a very very angry letter from us! Yes! Very angry indeed!
Okay, the balloon rant is over now, I need to pep myself back up into fun happy mode so I can get my electro on tonight.
Weeeeeeeeeeeeeeeeeeeeeeeeeeeeeeeeeeeeeeee
shirt mens, cutoffs Nobody, earrings mystery treasures found underneath lots of old things